Wow…..August was a thrill ride for me, bookishly speaking.  I have become so addicted to thrillers, because the ones I read this month were SO….GOOD!!!  I did read a few non-thriller titles but the majority of them were thrillers, and most of them were by British authors! This post is coming a bit late because, tragically, I am without my laptop right now. It decided to die a sudden death, and because I am a starving blogger, I am reduced to borrowing my husband's or using the one at work. So, I apologize if my posts are very few and far between for the next few months. Also, I'm pretty sure you have all heard of the hurricane that's barreling towards the East Coast of the United States….yeah….I'm pretty much in the bullseye, so I would appreciate you guys sending some good thoughts my way.  So, here they are in no particular order!
1. Time Crawlers by Varun Sayal
This was a review request I received from the author. Because I am a huge Doctor Who fan, the title, "Timecrawlers" intrigued me. I was expecting a traditional book, but was pleasantly surprised to find that they were short stories. Six stories, all different, and all very unique. My favorites of the six were the first two stories titled, "Eclipse" and "Death By Crowd".
"Eclipse" is a very imaginative story based on the "aliens among us" theme that is the foundation of many science fiction movies and books. The author managed to take a much used theme and created a brand new way to tell it.
"Death by Crowd" would actually make a good movie or horror short film. It takes the idea of pay-per-view to a whole new terrifying level. Although very morbid, the story has a very unique concept that I've never even thought about. In this warped society we live in, it's not difficult to imagine this becoming reality.
The only reason that I didn't give this four stars is because the book is in dire need of editing. Although the stories were great, the grammar and punctuation issues were noticeable and thus, took away a little of the enjoyment. Also, I had a little difficulty getting used to the monologue format of some of the stories. It took me back to high school when I was forced to read plays, so it took some getting used to. Seeing as the author has a background in theatre, it makes sense that he would choose to use this format.
Thanks again to the author, Varun Sayal, for providing me with a free copy.
2. The Other Woman by Sandie Jones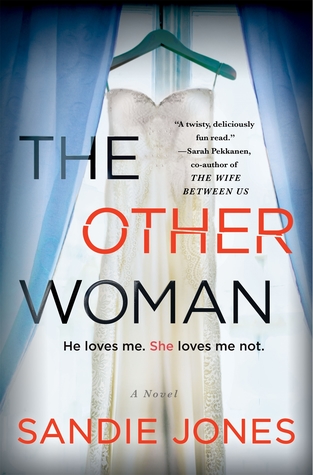 Emily has found the man she wants to spend the rest of her life with. But his mother is doing everything possible to ruin it for her. What will it take to get this woman out of her life for good?
I think most women, me included, have had conflict with their boyfriend or husband's mother. I have never had so many outbursts while reading a book because I totally connected with Emily, the main character. I understood what she was going through. I read this book in just a couple sittings. Awesome thriller, not to be missed! I gave this one 4 out of 5 stars.
3. The Last Time I Lied by Riley Sager
Very rarely do I give a book five stars, but this one really deserved it. It had just the right amount of mystery, suspense, and creepy goodness. This will probably be in my top five of the whole year, if not my VERY top read of the year.
Camp Nightingale…. Emma Davis thought she would never go back after what happened fifteen years ago. Three girls in her cabin disappeared without a trace. After finally moving on, or so she thought, and becoming an accomplished painter, she is invited back to the camp to help reopen it for its first summer since the tragic event. Maybe she can right the wrongs of the past and figure out what happened to the girls and who is responsible.
4. Astrid the Unstoppable by Maria Parr
 
This is a book that I received, courtesy of the publisher, for an honest review.  Adorable and heartwarming, this story takes place in a tiny Norwegian town. It had a similar feel to Lindgren's Pippi Longstocking and Spyri's Heidi. 
They call her the little thunderbolt of Glimmerdal. Nine-year-old Astrid is the only child in the tiny town of Glimmerdal. She spends most of her time with her best friend, Gunnvald, a cranky but loveable 74-year-old man. He has taught her so many things, like how to make the fastest sled around and how to make venison stew, but it's Astrid who teaches him the most important lesson of his life.
This book was lighthearted and humorous, yet so deep with emotion. Each chapter is a new adventure. The main character is full of spunk and overflowing with confidence in herself. Great read for girls ages 8-11. I gave it 4 out of 5 stars.
5. Behind Her Eyes by Sarah Pinborough
This book will seriously blow your mind! Just when you think you have it figured out, you realize you are completely wrong!
The man Louise meets in a bar seems perfect for her, until she realizes he is her new boss, and married. Against her better judgement, she becomes friends with his wife Adele and soon discovers their marriage is far from perfect….actually, it's downright scary..
6. The Forgetting Time by Sharon Guskin
Every mother thinks their child is unique. But when Janie's four year old son, Noah, starts talking about a previous life, she knows this is way beyond unique.
I really connected with the characters, mostly because I have a son around the same age as Tommy and Noah. I've never read anything quite like this. Even though I don't believe in reincarnation, it was fun to imagine the possibility.
7. Stolen Secrets by L.B. Schulman
I received a digital copy of this book, courtesy of the author, for an honest review.
I cannot say enough good things about this book. I also gave this five stars, but this one was so emotionally powerful, that it definitely deserves it.
Sixteen-year-old Livvy is abruptly moved across the country by her mother, who tells her it's for a new job. What she doesn't tell her is that the new job is taking care of her grandmother, who she thought was dead, and who may or may not have a connection with the Jewish concentration camps of World War II and the most famous person of that era…Anne Frank.
8. The Cottingley Secret by Hazel Gaynor
 
The first thing that drew me to this book was the cover. Yes, I judge books by their covers! When I read what it was about, I knew I had to read it.
I had always been fascinated by the story of the Cottingley fairies, so this was mainly just a fun read for this month. The author did a fantastic job at bringing the story to life and putting a modern spin on it. If you're looking for a fast paced book, this is definitely not for you. I didn't mind the slow pace of it. It was a very enjoyable magical, heartwarming story. If you are not familiar with the Cottingley fairies, after reading the book, research the back story. It's pretty fascinating.